Have you ever had an argument about a seemingly insignificant creative decision that ended up feeling like life or death? Have you felt unequipped to have healthy conversations with collaborators who don't share your opinion?
If you've ever played in a band, I bet you have. Just ask The Beatles, Pink Floyd, and Oasis.
Anyone who pursues creativity in a group setting knows how it feels to struggle with unhealthy communication. Often what's missing is a thoughtful approach to what I call Creative Diplomacy – the traits and techniques needed for positive decision-making in creative environments.
Creative Diplomacy is a mental orientation that can be deployed to enable groups to make decisions about subjective creative choices. Whether you're in a rock band or a tech start-up, these may be the decisions that make or break your progress. Creative decisions feel personal, and disagreements can become battlefields. This is why the most successful bands in the world break up, and boardrooms break down.
Creative Diplomacy begins with a mindful understanding that creative disagreements trigger our most basic fight or flight responses. The intensity around creative arguments shows how deeply our identity gets wrapped up in our creative opinions – they become a projection of our very essence.
You don't like my lyric in the chorus? You don't like my marketing copy for the release roll out? My mind and stomach turn like a washing machine, and I want to scream (fight) or quit (flight).
Within the challenging environment of creative decision-making, I believe collaborators should make a set of 6 mutual pacts when navigating differences:
Separate your identity from your creative ideas, and do the same for others. A critique of a creative idea is not a critique of the person behind the idea. This is especially difficult to do in the arts, and can require deep introspection over time.
Avoid immediate negative judgments, but also avoid silence. While a quick positive judgment often holds true over time, a negative one frequently doesn't, especially in cases where a creative idea is challenging or unexpected. Within reason, give people's ideas the benefit of the doubt and sit with them for at least one sleep cycle. But also realize that silence is deafening when it comes to creative communication.
Default towards testing creative ideas rather than dismissing them outright. If someone has a strong creative opinion that isn't immediately accepted by the group, whenever possible test it before dismissing. Mock up a quick draft of the idea if it's visual or sonic, so that participants can discuss it in reality rather than debate it in theory.
Avoid interruption and listen respectfully. Silencing someone on a creative subject is damaging and never forgotten, especially if done from a position of power within the group dynamic.
Create a conceptual framework where stakeholders have a finite number of "passion points" to spend on disagreements within a given project or process. This system can add helpful structure to the open-ended "pick your battles" teaching. For example, one person's passionate opinion may be enough to overrule two people's mildly held difference, but putting limitations on passion points gives people a finite sense of when and how to "spend" their opinions. Credit to Neil Osborne of 54-40 who espouses this concept with bands he's producing, including former projects of mine.
Learn your own creative biases and those of your collaborators. Build empathy for different ways of looking at the creative process and decisions:
• Creative risk tolerance – acknowledge that people have different degrees of willingness to experiment and potentially fail in creative arenas.
• Creative patience – acknowledge that people have different tolerances for pursuing open-ended explorations versus pushing for decisions and completion.
• Propensity towards predictability – creative work still requires predictability to be emotionally effective (eg, a predictable chorus, a predictable marketing hook) but acknowledge that people have different relationships to the spectrum of predictability and surprise – both are essential ingredients.
• Market orientation – acknowledge that people have differing biases towards pursuing creativity for its own sake versus situating creative choices within current market conditions.
• Sensory bias – acknowledge that people interpret the world differently based on sense perception. Eg, in music some gravitate to melody over rhythm, and vice versa – recognize all are valid.
Thinking about Creative Diplomacy reminds us that the most important outcome for musicians, bands and indeed any creative is simply to make decisions and move projects forward to completion. A band is like a start-up with thousands of decisions to be made.
If you aren't making effective decisions about creative matters, you might just be lacking the tools and orientation to deal with the intense emotions around the creative process. Don't let the boardroom turn into a battlefield, and don't let the studio turn into a soap opera.
This essay originally appeared in Canadian Musician Magazine.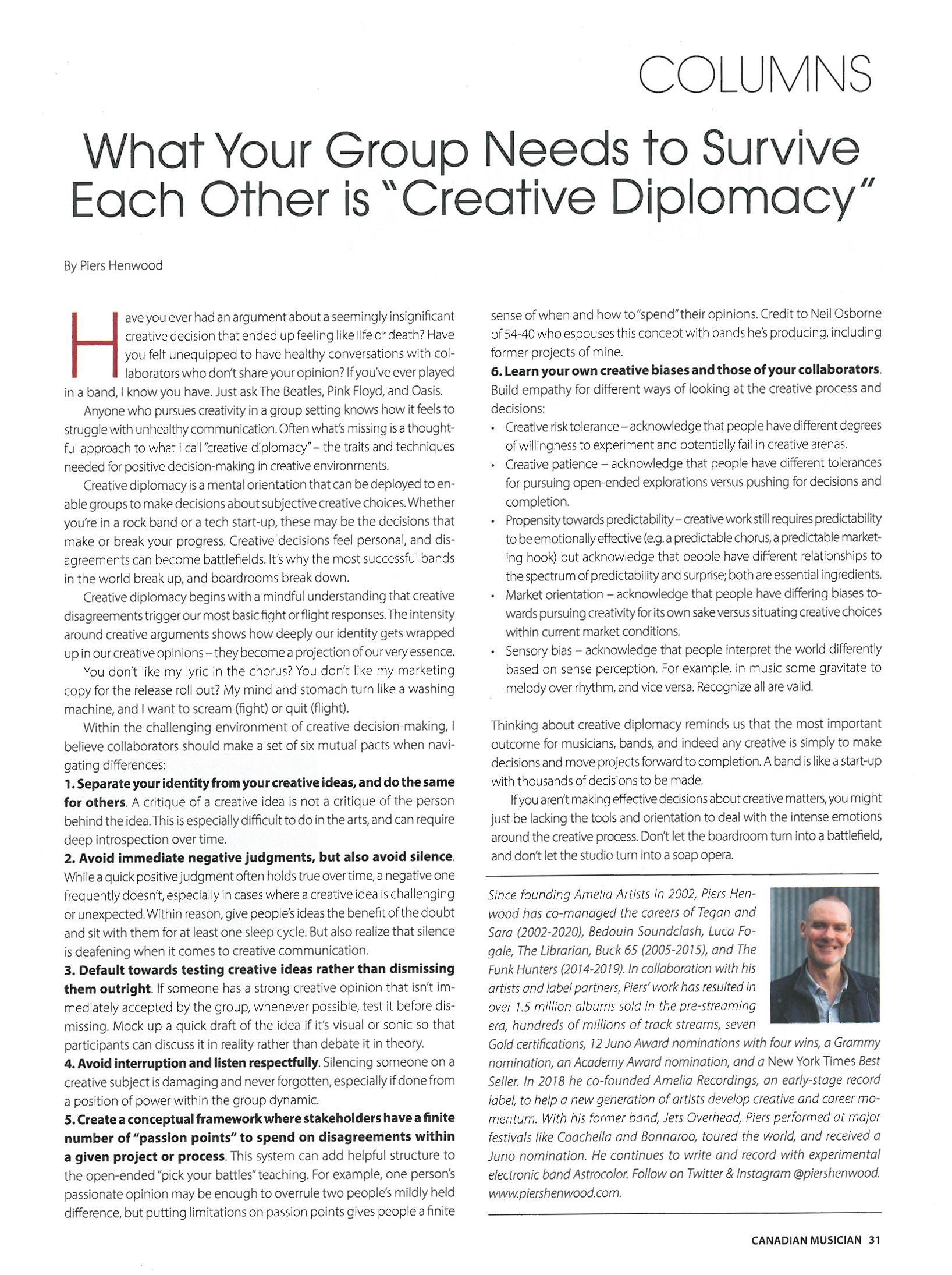 Share your email below and I'll let you know when I've posted new writings about music, business, and creativity.